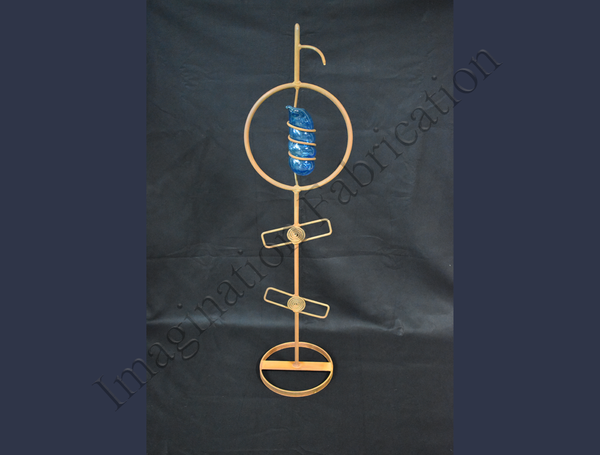 Four Elements Free-Standing Steel Sculpture
Imagination Fabrication of New Mexico
---
Our rendition of the four elements, nestled in metal for protection and grounding. The large circle at the top represents the seasons and circle of life symbols represent vitality, wholeness, completion, and perfection. The opposing rectangles symbolize the Yin and Yang energy. The shape of the glass represents the fluidity of energy.
Choose Your Color:
Blue: symbolizes the Water Element which represents healing, stability, devotion and unconditional love. 
Green: symbolizes the Earth Element which represents prosperity, fertility, sustenance, physical abundance, introspection and wisdom. 
Red: symbolized the Fire Element which represents incredible energy, creativity, passion, power, vision, strength and courage.
Yellow: symbolized the Air Element which represents communication, perception, knowledge, imagination and harmony.
Each piece is sturdy and beautiful with hand-forged, hammered and welded techniques with hand-blown glass and a durable finish. This piece does not come apart and is not adjustable. Comes with a 14" spike for secure placement outside.
Size is approximately: 52 3/4" height X 14 1/2 wide X 12 1/4 deep.  Weight approximately 14 lbs.
Note: Items may differ slightly from the picture, as each item is hand-made. Allow 3-5 days to ship.
Contact us for shipping options.
Email: contactus@imaginationfab.com
---
---
---
Share this product
---
---
---