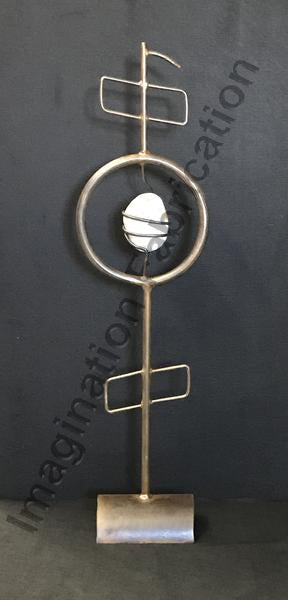 Forgotten Stories Free-Standing Steel Sculpture
Imagination Fabrication of New Mexico
---
Our rendition of the forgotten story of where we came from and what sustains us.  Mother earth symbolized by the rock in the center is the foundation of everything that is and always will be. The roots of our existence at the bottom of the sculpture, billowing upwards to the wind and rain. Sure, the other elements (water, air, fire) are life forces too. But Earth is the accommodator of all.
This piece is sturdy and beautiful with hand-forged, hammered and welded techniques with a durable finish. This piece does not come apart and is not adjustable. Comes with a 14" spike for secure placement outside.
Size is approximately: 43" tall x 12" wide x 6 3/4" deep. 
Note: Items may differ slightly from the picture, as each item is hand-made. Allow 3-5 days to ship.
Contact us for shipping options.
Email: contactus@imaginationfab.com
---
---
---
Share this product
---
---
---